Bah Hrain'  (Actually pronounced Bah Hkkrain)

In many ways, the Kingdom of Bahrain is the antithesis of Luxor.  Although lush and verdant, Luxor is focused on the past, primarily that of its rulers thousands of years ago.  Horse drawn carriages, dusty roads, old autos and taxis.  The currency exchange rate is such that you hold a stack of bills one-half inch thick for each $100 you exchange.

For thousands of years, Bahrain has been a major hub for business in the Middle East.  Everything is quite modern and clean.  Four lane divided roads, new cars, hotels and office buildings of up to 25 stories.  Lawns and trees are well manicured.  Although they receive fewer than four inches of rain each year, they have an ample supply of water from natural underground springs.  They recently built a state-of-the-art international race track to the south of the city and hosted their first Formula 1 auto race two months ago.  They have a very historic past of at least 5,000 years but are clearly focused on the future.  The exchange rate is three US$ to one Dinar but prices are still reasonable.

On the flight over from Luxor, except for a few high jet contrails, we did not see one cloud in the sky.  We were cleared on course immediately after takeoff and headed east.  Once we crossed the Red Sea (much easier than in Moses' day), there were a few times when we were out of radio contact with the Saudi Arabian controllers.  However, we were always able to have another aircraft relay our position so there was never a problem  There was even a 10 to 25 knot tailwind which increased our "sandspeed" and brought us in a half hour ahead of schedule.

Most of the Saudi Arabian landscape is as desolate as one could imagine.  If you didn't know better, you would think it was one of the very poorest of countries on the globe instead of one of the richest oil producers.  As we approached the eastern portion of the country, however, there were irrigation wells with agricultural circles around them similar to those in our Midwestern states.  Then, in the middle of absolutely nowhere, there was a large city surrounded by oil wells and large storage tanks.  No mystery why it was named Gassim.

Midway across Saudi, a reddish haze of dust developed which blurred all objects on the ground and extended a few thousand feet above our altitude of 13,000'.  Pilots are accustomed to dealing with cloud cover but not sand cover.  It was never thick enough to cause problems, however.  It is probably their equivalent to the smoke and haze in our cities--just a different color.  As we approached the coast, it changed to a more tannish color and then gradually dissipated.

Bahrain Airport is a pilots dream.  The runway is 12,900' long.  The entire airport was recently built on a reclaimed island with no other buildings nearby to create turbulence or neighbors to complain about the noise.  It is one of the very best in the world.

The weather in Bahrain is hot but not humid.  Being surrounded by water, I am not certain how they manage that--but Florida should try to find out.  The temperature gets up to 110 in the afternoon and cools to about 85 at night.  They don't show the weather in local newspapers because everyone knows it is the same each day.  We looked up the seven day forecast on the Net and it showed a big bright sun for every day.

A decision has been made to move the Red Bearon from his spot atop the instrument panel.  He appeared to be developing a sunburn.  I guess we could apply sunscreen but it would make his fur all glucky.  We have given him a new vantage point atop the survival gear immediately behind Sherry's seat.  He can see quite well from there and warn us of any incoming fighter planes.  Actually, word of his presence must have leaked because, so far, all of the fighters have kept a safe distance.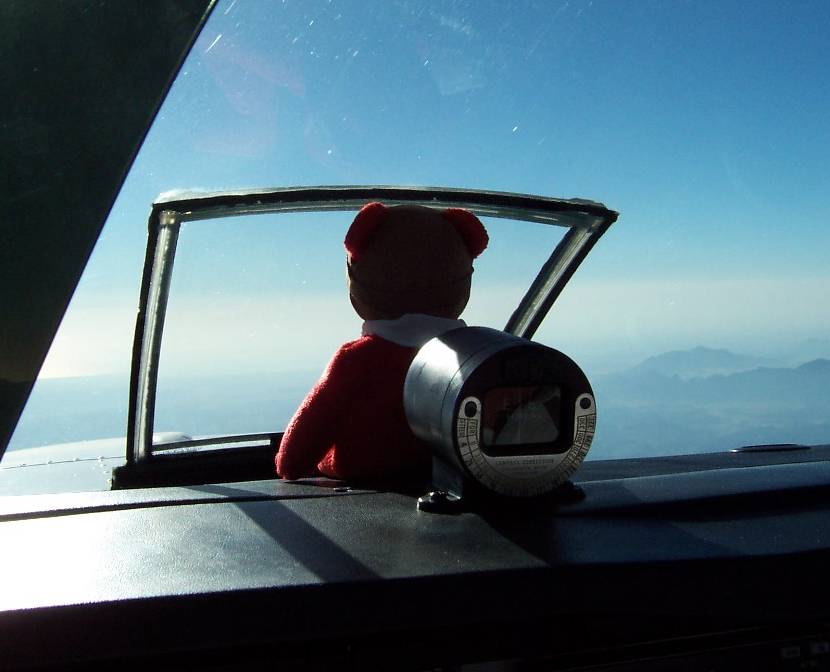 Little Red checking out the Sea originally named in his honor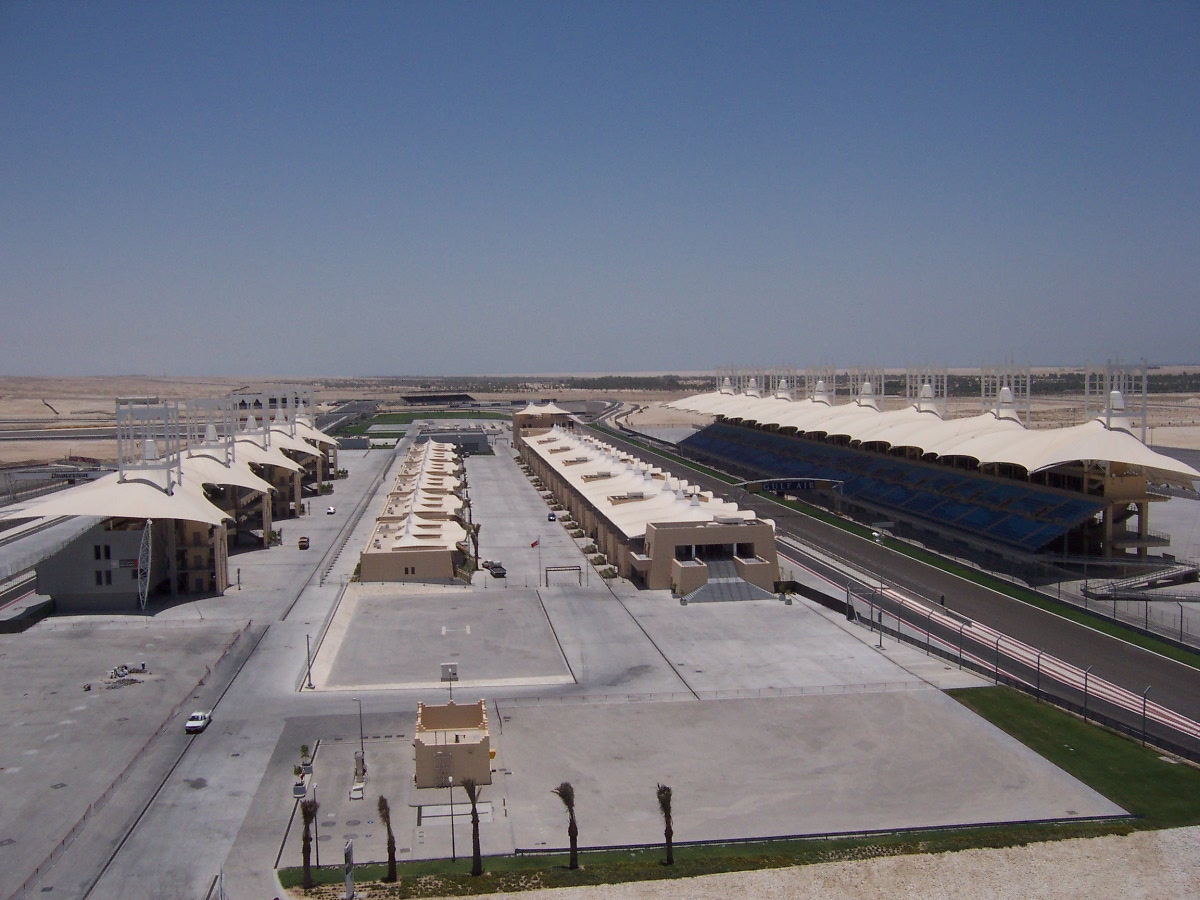 Bahrain F1 track from Royal Tower

Today we toured the shiny new Bahrain Formula 1 race track.  It is truly a remarkable facility, likely the most beautiful track in the world.  Although there were a myriad of unfinished items immediately prior to race day, they put it all together and it was ready for the spectacle that is formula 1. It is amazing what you can achieve with a talented, dedicated team and $150,000,000.

We visited the Royal suite where the King of Bahrain entertains other royalty and dignitaries during the races.  It is quite posh but with a proper checkered racing flag motif.  It also has a pretty good view from high atop the tower.  All of the facilities, press room, race control, and drivers and team managers suites are absolutely state of the art.  

Giesha, the very pleasant young lady who gave us the tour, is from Germany.  She took us everywhere except for a lap around the track (that would not have been too breathtaking in her golf cart).

Although she is German, she said it would be nice if someone other than Michael Schumacher would win occasionally.  However, she said he works harder than anyone else and deserves his success.  At 10 PM, when all of the other drivers had left, he was still there practicing precision pit stops with his crew.  There is definitely a message there.

The next time we visit the track, it will be as spectators for the big race.  We will sit in the grandstands.  We will never get into that tower again!