The flight to Pohnpei was especially anticipated for 2 reasons.  First, we had heard that Pohnpei was the most beautiful island in all of Micronesia.  Also, it was to be the first time we would take off totally full of fuel, an excellent test for the 2 longer legs in the coming weeks.

On the morning prior to our departure, all of the purchased 7 drums of fuel were pumped into the aircraft  and our tanks were full.  the drums hold 55 gallons but are sold with 200 liters which equates to 52 gallons of fuel.  Each drum is brand new and sealed which means that you don't have to be concerned with rust or other impurities in the Avgas.  Although it seems a waste for the drums not to be returnable, it certainly lends comfort to the user, especially when flying long distances over water.

The aircraft had no difficulty taking off at maximum gross weight, although climb performance was sluggish in the warm temperatures as anticipated.  What really gave us confidence, however, was when we reached cruising altitude, our fuel mileage computer was already showing the minimum number required for the longer trips, despite the extra weight and a 10 knot headwind.  It had been anticipated that we would attain those numbers only after burning off about one-third of our fuel.  We now know with certainty that the Baron can easily tackle the 2 long legs.  We will definitely sleep better the nights prior to those flights.

The forecaster mentioned various Airmets, Sigmets and other meteorological phenomenon--which meant there would be a lot of clouds on our route.  There were probably more on this leg than on any other in recent memory but they presented no problem.  One band of tall, dense buildups was over 100 miles wide and about 20 deep.  Fortunately, the radar was able to find a reasonable crease and we went through with light to moderate rain but hardly any bumps at all.  Soon there was pretty blue sky again.  We love it when that happens.

After a flight of several hundred miles across open water, every airport is beautiful when it first comes into view.  However, Pohnpei was especially so.  There is a large, 800' tall butte, a former volcanic core, only 3 miles off and slightly to the right of the runway.  You must avoid that to make a successful landing.  Also, the 6,000' runway stretches from one end to another of a small island which is connected to Pohnpei by causeway.  If you land short or overrun, you are in the water.  To add a little additional excitement, a pilot from Air Micronesia who had recently landed in a 737, called and warned us of windshear on short final that would increase our sink rate and decrease the airspeed.  We carried a little extra speed (but not enough to run off the other end) and were not affected significantly by the shear.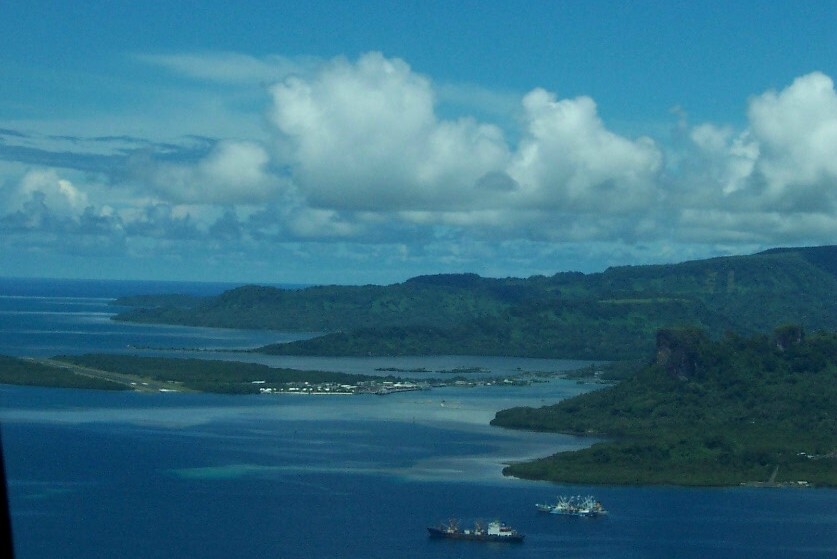 The Village Hotel had been located via the Internet.  It seemed like a very quaint place but marketing literature and reality can sometimes differ quite widely.  When we arrived, however, we fell in love with it.  We decided to throw out the schedule and stay for 6 days instead of 3.  It is not your average seaside resort.

Although a beachfront property, the buildings are situated a few hundred feet back and about 200' above the water for spectacular views.  There are 20 individual bungalows all on stilts, set along a winding and descending combination of path and stairs.  The entire resort is in a rain forest with jungle foliage for total privacy.  And privacy is needed because, although there are windows along 3 sides of each cottage, there are no window panes or drapery--only screens.  No air conditioning--only one large ceiling fan.  The top 12" of the interior walls below the roof structure is totally open and anything could fly or crawl in--although anything rarely does.  Each of 2 queensize waterbeds has mosquito netting to enclose you at night.  Actually, there are very few mosquitos and we did not hear any of them attempting to take advantage of our sleep.  The walls and roof are made of folded-over coconut palm fronds.  One word describes this place--delightful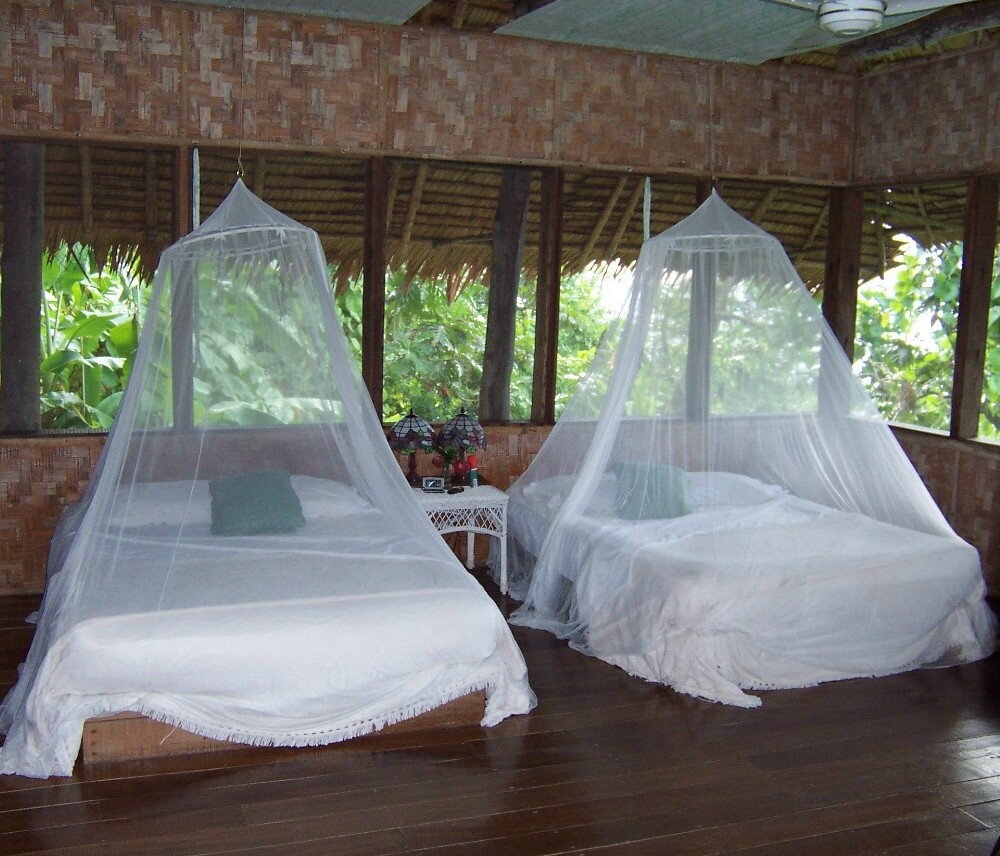 Pohnpei is known as the "Garden Island."  The island is actually a series of peaks of a 20,000' tall mountain range, except that only the top 2,500' protrude above water line.  It is surrounded by a coral reef which offers protection from major storms.  Only about 15 miles in diameter in any direction, it has an extremely meandering coastline to give it a tremendous personality.  Population is about 34,000, mostly concentrated in 5 small villages.  Its only main road generally follows the coastline all the way around the island.  There are several beautiful waterfalls to see as you drive around the island.  The 52 mile round trip takes nearly all day.

Fishing and diving among the coral reefs are very popular.  However, the greatest attraction is a visit to Nan Madol (Nan Mod-all'), the ruins of an ancient civilization filled with splendor and intrigue.  Nan Madol is a series of 92 man-made islands constructed by laying large, rectangular blocks of volcanic rock on a shallow portion of the ocean floor.  Some of the walls reached 40' in height. Transportation, as in early Venice, was by boat.  It was constructed over the period from 200 BC to 1200 AD.  The largest rocks weighed between 50 and 60 tons.  To ship in the boulders and put the large blocks into place in that era was an amazing engineering feat.  What makes the story even more phenomenal is that the nearest blocks came from the opposite end of the island--and others from as far away as Palau, a distance of over 1600 miles.  No one knows how they did it, why they did it or what finally happened to former residents.  Where are the psychics when you need them. 

There is the promise of 7 drums of Avgas in Bonriki, Kiribati so we will fly to that island instead of Majuro, as originally planned.  The 7 drums will again fill our tanks which definitely will be needed for the 2,104 mile flight to Honolulu. 

Beautiful approach to Pohnpei