It was still dark at 6:15 AM when we arrived at Singapore's Seletar Airport.  We were the first clients of the day for customs and immigration and had to wait a few minutes for them to arrive and get set up.  After a short drive to the airplane, we conducted the preflight and examined the weather briefing by flashlight.  It began to get light about the time we started engines.  There was the heaviest dew we have ever seen.  After an attempt to dry the windshield, it was still so wet we could hardly see to taxi.  Fortunately, by turning on the deicing equipment, a 12" square was created in the center of the windshield so we could see sufficiently to stay out of trouble.  However, the engine runup prior to takeoff blew everything dry and there was no problem after that.

Although we can easily take off in darkness, it is prudent in a strange area to wait for sufficient light to see the ground in the event of any problem, especially when heavy with fuel.  The timing was perfect on this day so no time was lost.  Although there was enough light for takeoff, however, the moon and stars were still visible and, with the city fading below us, it was a beautiful sight.  About 15 minutes later, it got even better when the sun started to appear over the South China Sea.  There was a line of small clouds on the horizon which were spectacularly outlined as the sun rose from behind them.  Sunrises are probably more appreciated than sunsets because you have to get up so early to see them.

The multi function display in the center of the instrument panel shows our precise position on its map at all times.  It even labels each small country to complement the geography lesson.  As we passed to the south of Cambodia and Viet Nam, we could not help but notice how serene they appeared considering the turmoil both countries experienced not that many years ago.  Indeed, they are comparably peaceful now as their people have rebuilt their lives and their economies are once again expanding.  It is our hope that other countries which are now hotbeds of conflict will also soon experience peace for their residents.

We had been warned that typhoons and monsoons were common to the area this time of year but fortunately none was in the forecast for this day.  As we approached Manila, however, there was a very large thunderstorm on the far side of the airport.  Unfortunately, that is where we had to go for our landing approach.  As we proceeded downwind, we could see lightning coming out of the dark clouds and were concerned that we may not be able to continue the approach.  However, just when we were about to tell the controller of the necessity to break it off, he gave us the desired 180 degree turn to final and we were able to land without the aircraft even getting wet.  It then took over an hour for the storm to reach the field and, by that time, all of our paperwork and refueling had been completed.  We were off to see the Philippines.

There are 7,000 islands in the Philippines and 170 languages.  Of the 80 million people, 13 million live in Metro-Manila.  The traffic there is the worst in the entire world.  At 8 PM on an average night, it would take 2 1/2 hours to drive 7 miles from downtown Manila to a home in the suburbs.  At best, the same trip would take at least an hour if a time of day or night was chosen when traffic was lightest.  The local taxi is the "Jeepney", a very colorful, diesel powered stretched jeep-on-steroids-like vehicle that carries from 12 passengers to as many as can fit inside and hang onto the outside.  Professionally painted in bright colors with tasteful airbrushed pictures and signage, they are really something to see.

For a country excursion we traveled a few hours outside the city to a remote area called the Pansanjan River and Falls (Pohn-sohn-hohn).  They took us upriver in a 24 foot wooden canoe, similar to a dugout but more refined, on a journey through a narrow , steep walled canyon to a clean, clear waterfall.  With two passengers to each canoe and a paddler on each end, all we had to do was to sit and enjoy the pristine scenery and look for monkeys along the way.  Occasionally there were small areas of rapids through which the boatmen pushed us very quickly and soon we would be quietly back under paddle.  Once at the falls, we were placed on a bamboo raft that was maneuvered under the falling water for a cool shower.  It was quite a surprise as the water fell vary hard upon your head but not enough to cause damage.  Once through, they asked us to lie flat on the raft as they pulled us through again for a waterfall massage.  There was a little pain experienced with that one but it was still fun!

There is much World War II history throughout the Pacific and the Philippine Islands may have more than their share.  On the day after Pearl Harbor, the Japanese invaded the islands with a temporary victory after about 4 months of fighting.  It was at Corregidor Island in Manila Bay that General Douglas MacArthur made his famous

"I shall return" speech.  He did return a few years later when the allies reclaimed the entire Pacific area.  We spent a day touring Corregidor for an excellent history lesson.  Times are certainly much better today than 60 years ago.

One could spend an entire lifetime in the Philippines and not see all of the islands.  We would certainly like to spend more time but Palau is calling.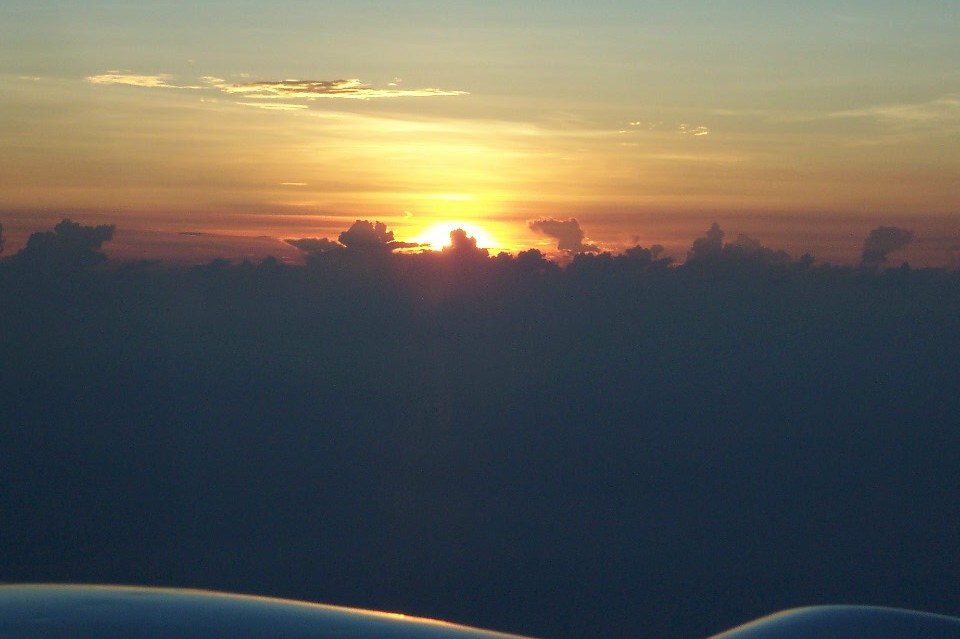 Singapore Sunrise -- Not a drink but equally as intoxicating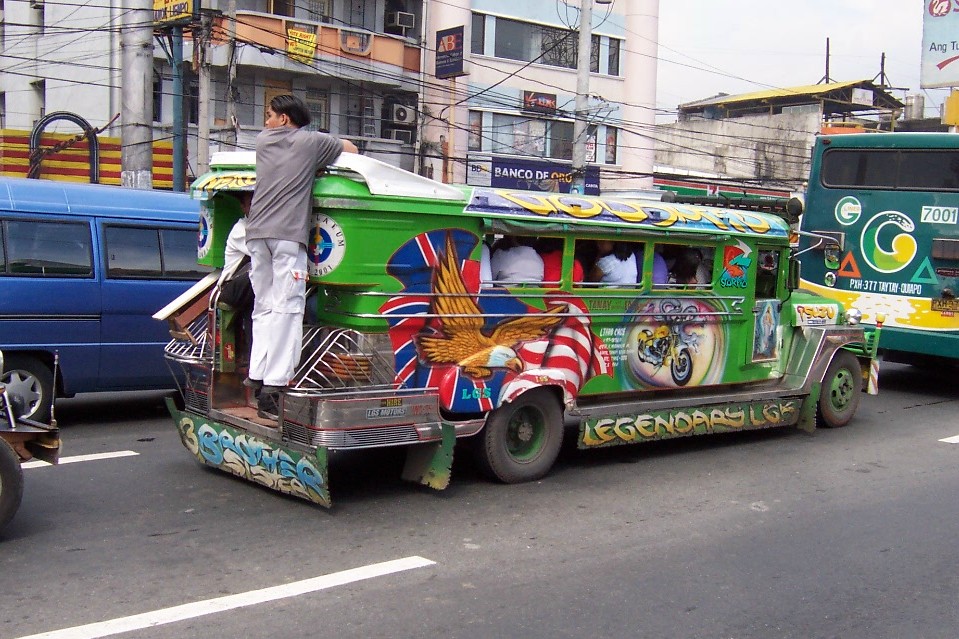 The Jeepney --  Filipino stretched limo